Cut Cords and Costs with the RYOBI 18V ONE+ Cordless Reciprocating Saw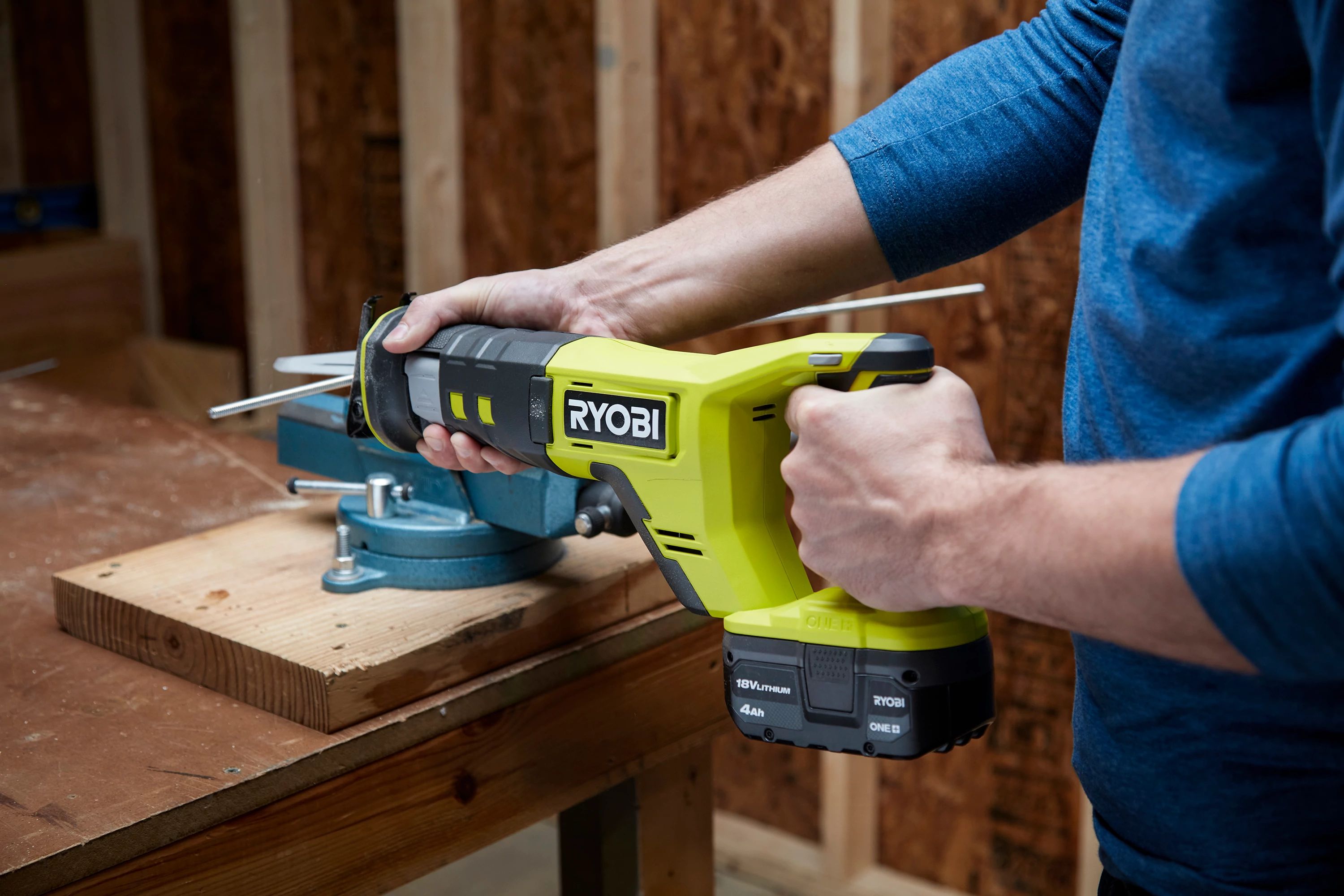 Reciprocating saws are must-have tools for demolition work, pruning, plumbing, and construction. But wrestling with cords can hamper your cutting mobility and speed. Cordless reciprocation saws offer game-changing freedom and convenience - and the RYOBI 18V ONE+ model delivers impressive performance at an affordable price.
With fast stroke rates, high cuts per charge, and tool-less blade changes, this saw makes quick work of just about any cutting application. Read on to see why it's one of the best values for DIYers and pros alike.
Lightning Fast Cutting Speed
This RYOBI recip saw rips through material at an astounding 3,400 strokes per minute (SPM). The aggressive 1 inch stroke length and high SPM enable you to power through wood, PVC, metal and more with ease.
Corded electric models often can't sustain maximum speeds consistently, especially as their cords heat up and lose power. With the RYOBI cordless, you get non-stop turbo cutting thanks to the efficient 18V lithium-ion battery system.
145+ Cuts Per Charge
In addition to speed, this saw delivers exceptional run time. Expect over 145 cuts through 2x4 lumber per battery charge.
The optimized power management system conserves energy so you can work longer without replacing or recharging the battery. Take this saw to the job site or out in the field and have confidence you can complete multiple tasks before needing to restore power.
Variable Speed Trigger
While this saw can hit blistering top speeds, sometimes you need more control and precision. The variable speed trigger provides that flexibility by allowing you to dial back the strokes per minute as needed.
Gently squeeze the trigger for slower, more deliberate cuts through thin materials or for detailed finishing work. Press down fully to engage the turbo 3,400 SPM mode when you need to plow through dense, thick materials quickly.
Simple Tool-Free Blade Changes
The easy blade release lever allows you to swap blades in seconds without any tools required. Simply flip the lever and the blade detaches for quick changes.
Being able to rapidly switch from a wood cutting blade to a metal blade maximizes the saw's versatility for different applications. You can go from slicing lumber to hacking through pipes with ease.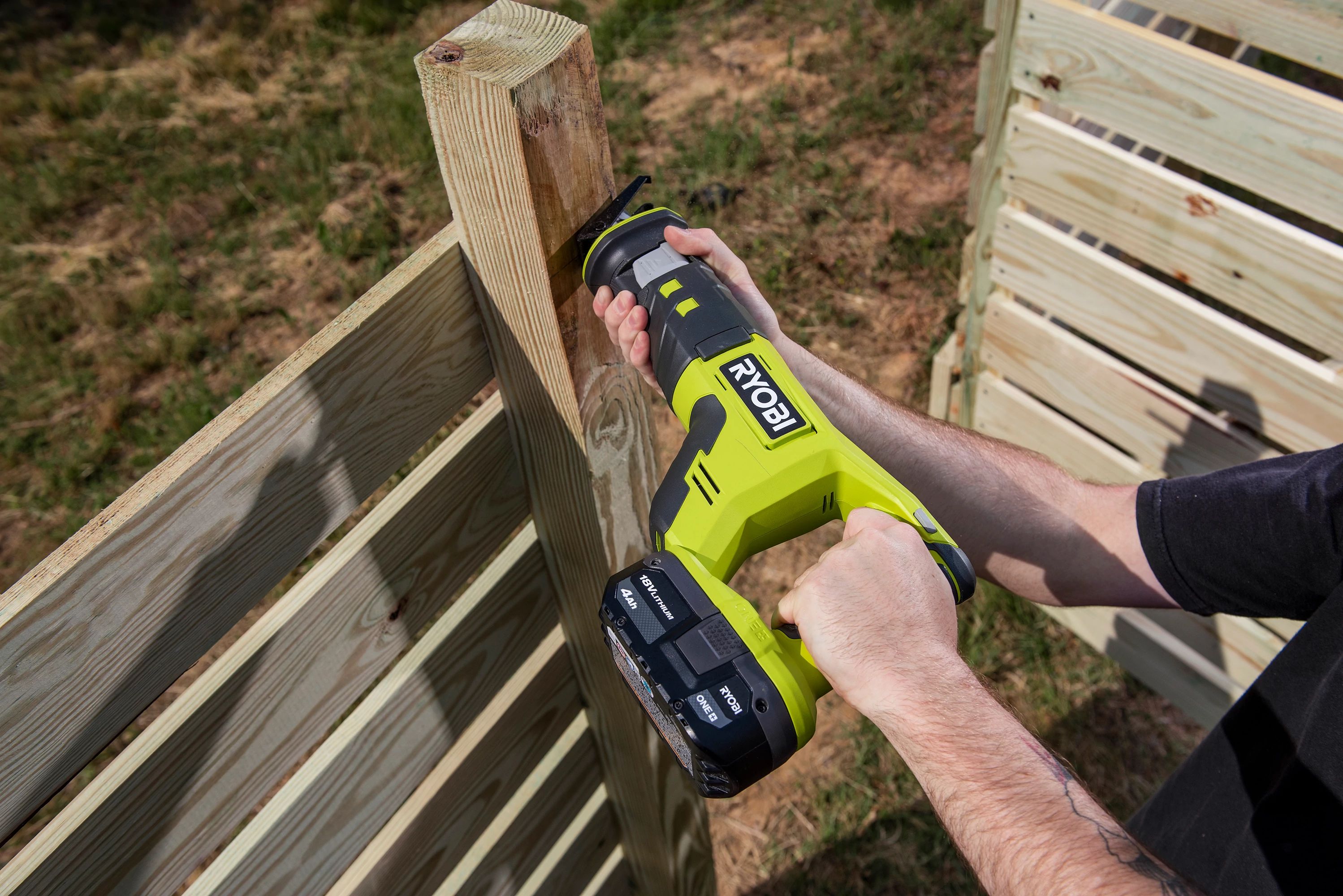 Complete Cordless Freedom
Cords are always getting tangled, caught on objects, and restricting your range of motion. This RYOBI reciprocating saw runs entirely on battery power so you can cut anywhere without limitations.
Easily access tight spaces, move freely around ladders, and work overhead without fighting with cords. The included rotating shoe provides stability and control while cutting in any position.
Part of the ONE+ family
This saw is compatible with all RYOBI 18V ONE+ batteries and chargers. If you already own ONE+ tools, you can use the same batteries to power this saw rather than buying a proprietary battery.
ONE+ offers lithium-ion packs ranging from compact 1.5 Ah for basic jobs up to high capacity 6.0 Ah for commercial demands. Over 260 ONE+ tools share the same battery platform for ultimate versatility.
Next time you need to demolish, cut pipes, prune branches, or take on other cutting tasks, leave the corded reciprocating saws behind. The RYOBI 18V ONE+ Cordless Reciprocating Saw combines speed, efficiency, and flexibility for conquering just about any cutting job you throw its way.