Elevate Your Woodworking Game with the RYOBI 2.5 Amp 9 in. Band Saw
Are you a woodworking enthusiast looking to take your craft to the next level? The RYOBI 2.5 Amp 9 in. Band Saw might just be the tool you've been searching for. This versatile and powerful band saw is designed to tackle a wide range of woodworking applications, making it the perfect addition to your workshop. Whether you're a seasoned pro or a DIY enthusiast, this band saw offers precision, ease of use, and the reliability you need to achieve exceptional results.
Precision and Power Combined
One of the standout features of the RYOBI 2.5 Amp 9 in. Band Saw is its powerful 2.5 Amp induction motor. This motor provides the muscle needed to handle a variety of cutting tasks with ease. Whether you're cutting curves, straight lines, or intricate designs, this band saw has the power to get the job done.
With a 9-inch throat capacity and a 3-1/2 inch cutting capacity height, you have the versatility to work on a wide range of projects. From crafting intricate wooden ornaments to cutting through thick wooden boards, this band saw has you covered. Its rapid set blade tensioning system ensures that your blades stay taut and ready for action, so you can work efficiently without interruptions.
Precision at Your Fingertips
Achieving accurate cuts is crucial in woodworking, and the RYOBI Band Saw is equipped with features that enhance your precision. The blade-tracking sight window allows you to monitor the blade's alignment, ensuring that your cuts stay on track. This feature is particularly useful when working on intricate designs or following curved patterns.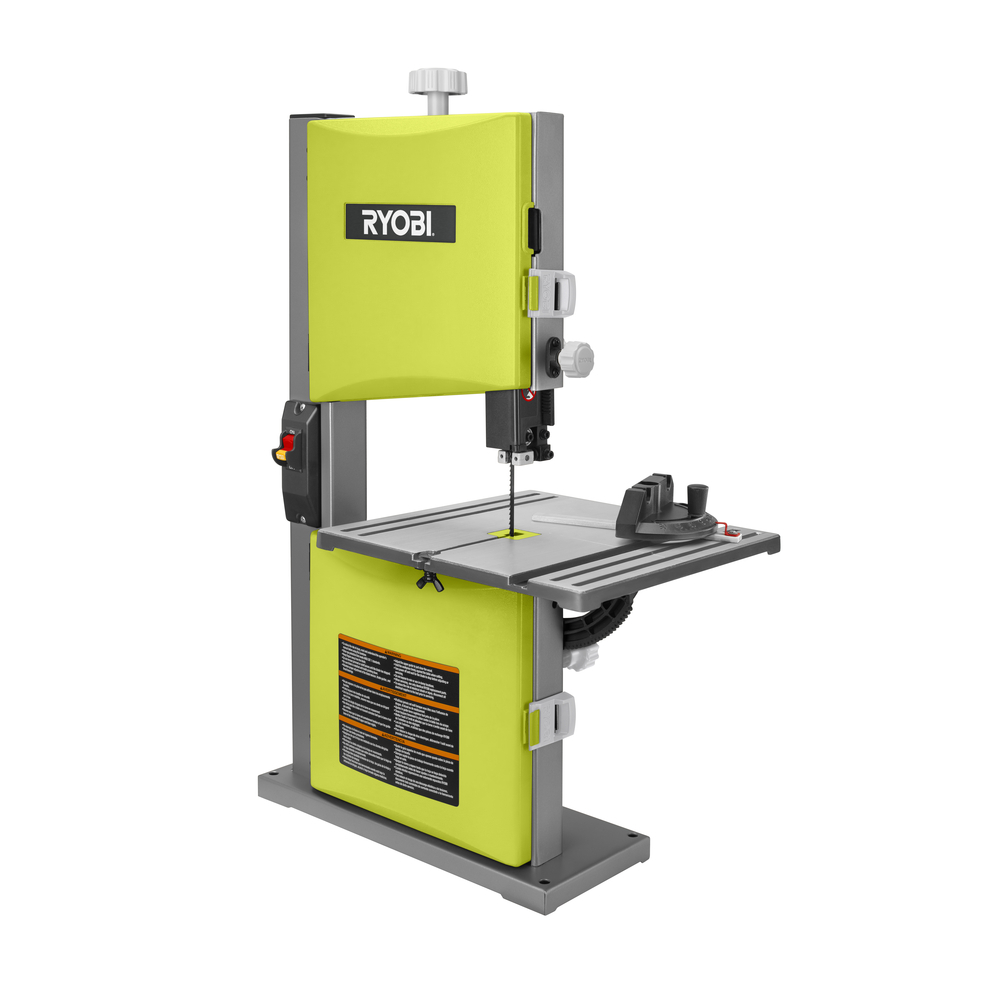 Additionally, the tool-free cabinet access simplifies blade changes and maintenance, so you can spend more time woodworking and less time on setup and adjustments. The convenience of this band saw is a game-changer, especially for those who value efficiency in their workshop.
Built for Comfort and Durability
Woodworking can be a time-consuming task, and comfort matters. The RYOBI Band Saw features an ergonomic design that reduces vibration during operation, resulting in less fatigue and more comfort while you work. This design makes it easier to stay focused on your projects for longer periods.
Durability is another key factor in the RYOBI Band Saw's design. With all-aluminum wheels and ball-bearing support, this tool is built to withstand the rigors of woodworking. It's a long-term investment that will serve you well for years to come.
Complete Package
When you choose the RYOBI 2.5 Amp 9 in. Band Saw, you're not just getting a reliable tool—you're getting a complete package. It comes with essential accessories like a saw table, a miter gauge, and hex keys, ensuring that you have everything you need to start woodworking right away. There's even a table lock lever for added stability and safety during operation.
RYOBI 2.5 Amp 9 in. Band Saw is a game-changing tool for woodworking enthusiasts of all levels. Its combination of power, precision, and ease of use makes it a valuable addition to any workshop. Whether you're crafting intricate designs or making straight cuts, this band saw will help you achieve professional-level results. Don't miss out on the opportunity to elevate your woodworking game—get the RYOBI 2.5 Amp 9 in. Band Saw today and unlock your woodworking potential.