Elevate Your Workday: RYOBI ONE+ 18V Speaker with Bluetooth Wireless Technology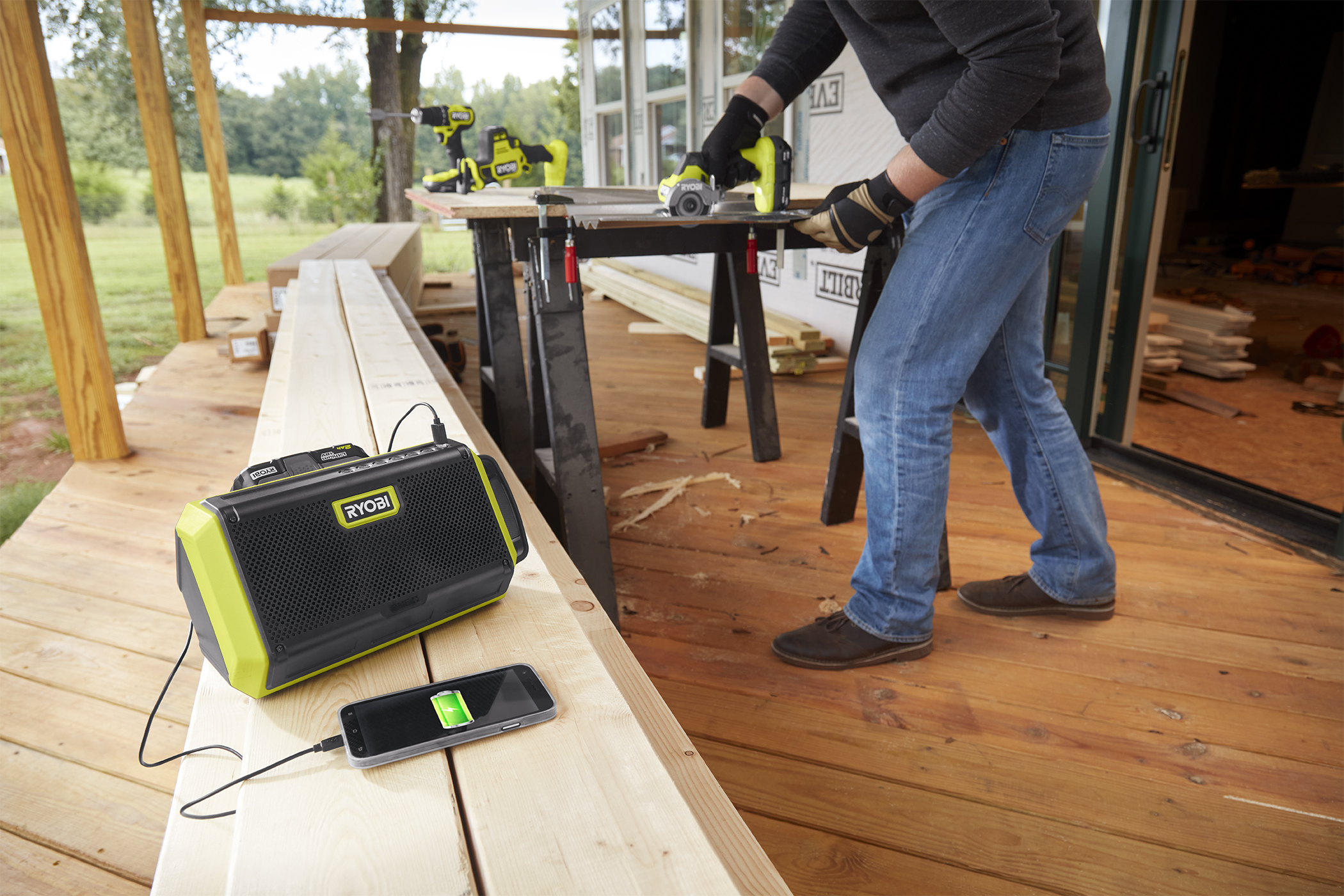 In the world of DIY projects, construction sites, or simply enjoying music on the go, the RYOBI ONE+ 18V Speaker with Bluetooth Wireless Technology is a game-changing addition to your toolbox. This innovative speaker combines Smart Amplifier Technology with dual 3-inch speakers to deliver powerful, crisp sound at any volume. In this detailed review, we'll explore the features, benefits, and real-world applications of this versatile speaker, ensuring you have all the information you need to elevate your workday with dynamic audio.
Smart Amplifier Technology: At the core of this speaker's exceptional audio performance is Smart Amplifier Technology. It ensures that you experience dynamic highs and lows, providing an audio experience that's rich and immersive. Whether you're playing your favorite music or need clear, loud audio on a job site, this speaker delivers.
Powerful Sound, Compact Size: Despite its compact size, the RYOBI ONE+ 18V Speaker packs a punch. With dual 3-inch speakers, it generates powerful, rich sound that fills your workspace or outdoor area. You'll be amazed at the audio quality that this portable speaker delivers, making it the perfect companion for work or leisure.
Unmatched Clarity: Compared to its predecessor, the P746, this speaker offers an impressive 8.5X improved clarity. You'll notice the difference immediately, with crystal-clear audio that enhances your music, podcasts, or job site communication.
Bluetooth Convenience: With a Bluetooth range of over 125 feet, this speaker offers excellent connectivity. You can enjoy your music or take calls without being tethered to the speaker, giving you the freedom to move around as needed. Whether you're working in a spacious workshop or enjoying outdoor activities, the Bluetooth technology keeps you connected.
Long Battery Life: The speaker boasts over 10 hours of runtime with an 18V ONE+ 4.0 Ah battery. This ensures that your music or audio remains uninterrupted throughout your workday or leisure activities. The integrated handle allows you to carry bold sound with you wherever you go.
Versatile Charging: In addition to playing your favorite tunes, this speaker features a 2.1 Amp USB charging port. You can conveniently charge your phone or tablet while you work, ensuring that your devices stay powered up throughout the day.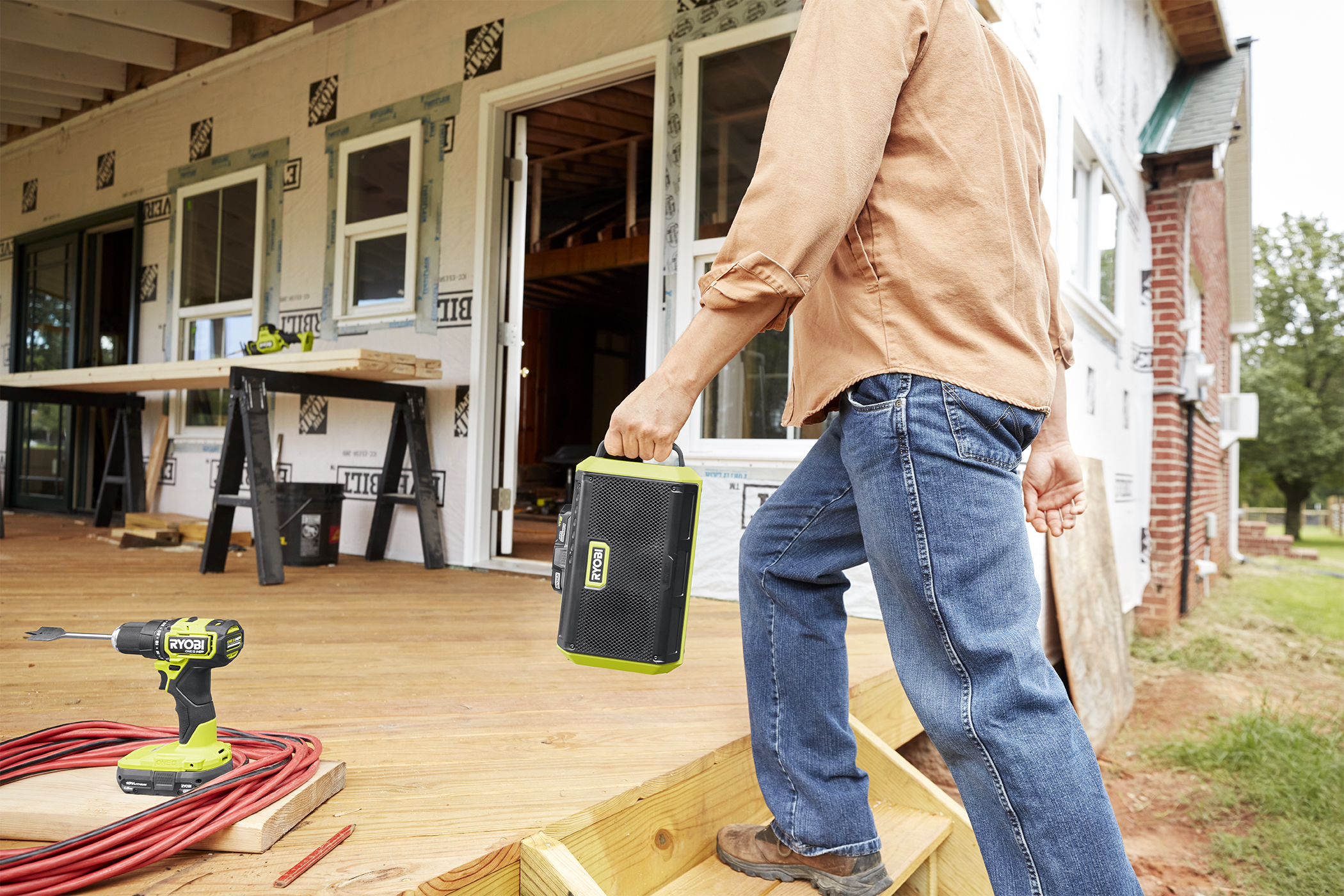 Voice Prompts and Ease of Use: Voice prompts indicate power on/off and Bluetooth connection status, making operating this speaker easier than ever. Its user-friendly design ensures that you can enjoy its features without complications.
Part of the RYOBI ONE+ System: The RYOBI ONE+ 18V Speaker is not just a standalone tool—it's part of the RYOBI ONE+ System, which comprises over 175 cordless tools, all powered by the same 18V battery platform. If you're already part of the ONE+ ecosystem, adding this speaker to your collection is a fantastic choice. For newcomers, it offers the convenience of using a single battery across a wide range of tools.
Conclusion: The RYOBI ONE+ 18V Speaker with Bluetooth Wireless Technology is a game-changer for work and leisure. Whether you're boosting productivity on the job site or enjoying music on a camping trip, this speaker delivers powerful, clear audio in a compact and portable package.
Elevate your workday or leisure activities with the dynamic audio of the RYOBI ONE+ 18V Speaker.
Invest in a speaker that enhances your audio experience wherever you go. Experience the RYOBI advantage today and take your tunes to the next level.