Introducing the Ultimate Inflator: RYOBI's 18-Volt ONE+ High Volume Power Inflator
Are you tired of manually inflating air mattresses, pool toys, or struggling with sawdust and debris in your workspace? Look no further than the RYOBI 18-Volt ONE+ Cordless High Volume Power Inflator, a versatile tool that will make your life easier in more ways than one.
Fast and Efficient Inflation: Say goodbye to the days of manually pumping air into your air mattresses or pool toys. The RYOBI High Volume Power Inflator is designed for high-speed inflation and deflation. It can inflate a standard twin air mattress in just 45 seconds! No more huffing and puffing or wasting precious time on tedious tasks.
More Than Just an Inflator: While this tool excels at inflating and deflating, it's not limited to just that. The RYOBI High Volume Power Inflator doubles as a portable benchtop blower, making it a handy addition to your workshop. Keep your work surfaces clean and free from sawdust or debris with ease. It can also accelerate charcoal readiness on your grill by providing a high volume of oxygen exactly where you need it.
Comfortable and Ergonomic Design: RYOBI understands that comfort is essential when tackling tasks, and that's why this inflator features a pistol grip handle with GRIPZONE overmold. It's designed to provide maximum comfort during use. Additionally, the locking trigger feature prevents user fatigue, allowing you to power through your projects with ease.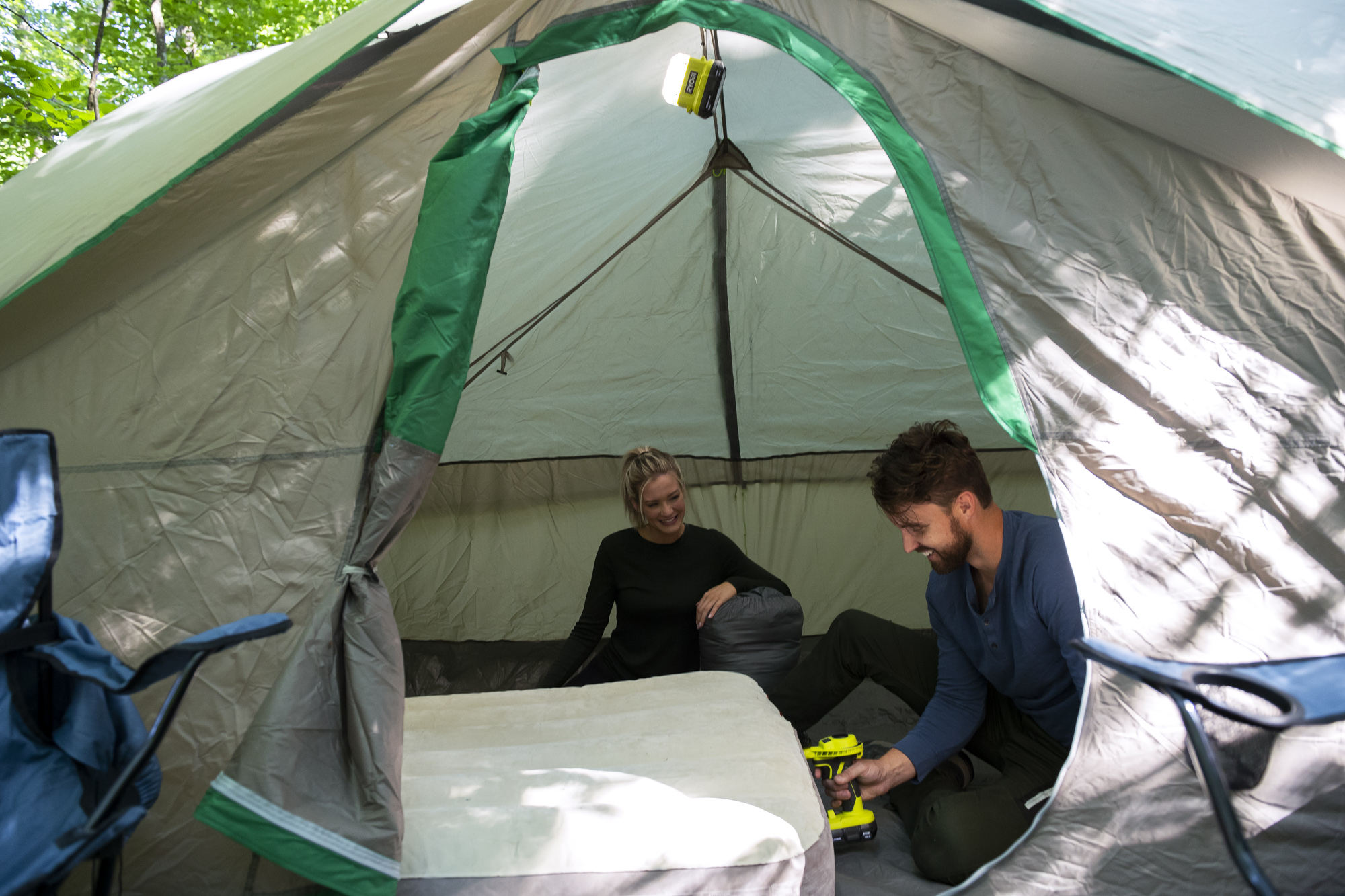 Part of the RYOBI ONE+ System: One of the standout features of this inflator is that it's part of the RYOBI ONE+ World's Largest 18-Volt Tool System. If you already own RYOBI ONE+ tools, you can use your existing batteries with this inflator. It's a versatile addition to your tool collection.
What's Included: The RYOBI High Volume Power Inflator comes with two nozzle accessories, giving you even more flexibility in how you use it. Whether you're inflating an air mattress, cleaning up your workspace, or speeding up grill prep, this tool has you covered.
Please note that the battery and charger are sold separately.
Say goodbye to manual inflation and hello to convenience and efficiency with the RYOBI 18-Volt ONE+ High Volume Power Inflator. It's the perfect addition to your toolkit, providing fast and effortless inflation for various tasks. Get yours today and experience the difference!