Mastering Precision: RYOBI 4 in. Wet Tile Saw with Diamond Blade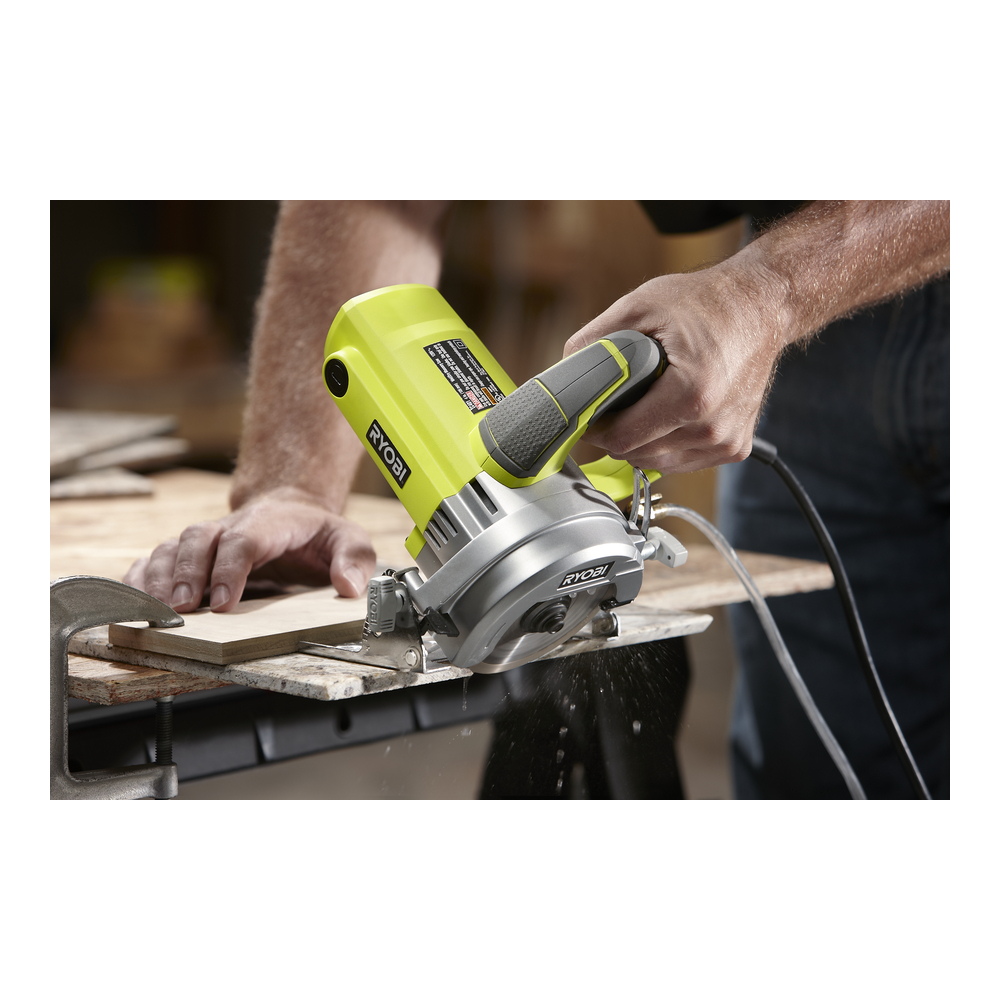 When it comes to tackling tiling projects with precision and ease, the RYOBI 4 in. Wet Tile Saw with Diamond Blade stands as a game-changer. This handheld powerhouse boasts a 12 Amp motor, cutting through even the toughest tiling materials effortlessly. In this comprehensive review, we'll delve into the features, benefits, and practical applications of this remarkable tool, ensuring you have all the information you need to make an informed decision for your next project.
Precision and Power: At the heart of the RYOBI Wet Tile Saw is its potent 12 Amp motor, providing the raw power needed to conquer challenging materials. Whether you're working with ceramic, glass, pavers, porcelain, or stone, this tool effortlessly glides through, delivering precise cuts every time.
One of the standout features of this wet tile saw is its ability to handle diverse materials with ease. Ceramic tiles, known for their durability and hardness, pose no challenge for the RYOBI Wet Tile Saw. It also excels in cutting delicate materials like glass, ensuring clean and chip-free results. Whether you're renovating a bathroom, installing a new kitchen backsplash, or crafting intricate mosaic designs, this tool is your reliable partner.
Control and Comfort: Long cuts and continuous usage are a breeze, thanks to the lock-on trigger, which adds control and reduces fatigue. The GRIPZONE overmold technology with micro texture ensures a comfortable grip during prolonged use, allowing you to work with confidence. The ergonomic design minimizes strain on your hands and arms, enhancing your overall cutting experience.
Versatile Cutting Options: The RYOBI Wet Tile Saw offers versatility in cutting. It can cut materials up to 1-5/32 inches at 90° and 3/4 inch at 45°, making it suitable for a wide range of projects. Whether you need straight cuts for flooring or bevels for decorative edges, this tool has you covered. The ability to make precise angle cuts opens up new design possibilities, allowing you to create intricate patterns and designs.
User-Friendly Design: Changing brushes is a hassle-free task with externally accessible brushes, minimizing downtime and ensuring your tool remains in top working condition. The brass water regulator lets you control water flow, ensuring the perfect amount of moisture for your cuts. This is crucial for maintaining the blade's sharpness and extending its lifespan.
What's Included: With your purchase, you receive everything you need to get started: the TC401 12 Amp Corded 4 in. handheld wet tile saw, a 12 ft. water supply with a regulator and faucet adapter, a GFCI plug, arbor wrench, a 4 in. diamond cutting wheel, and an operator's manual. The inclusion of these essential accessories ensures you can start your project right away, without the need for additional purchases.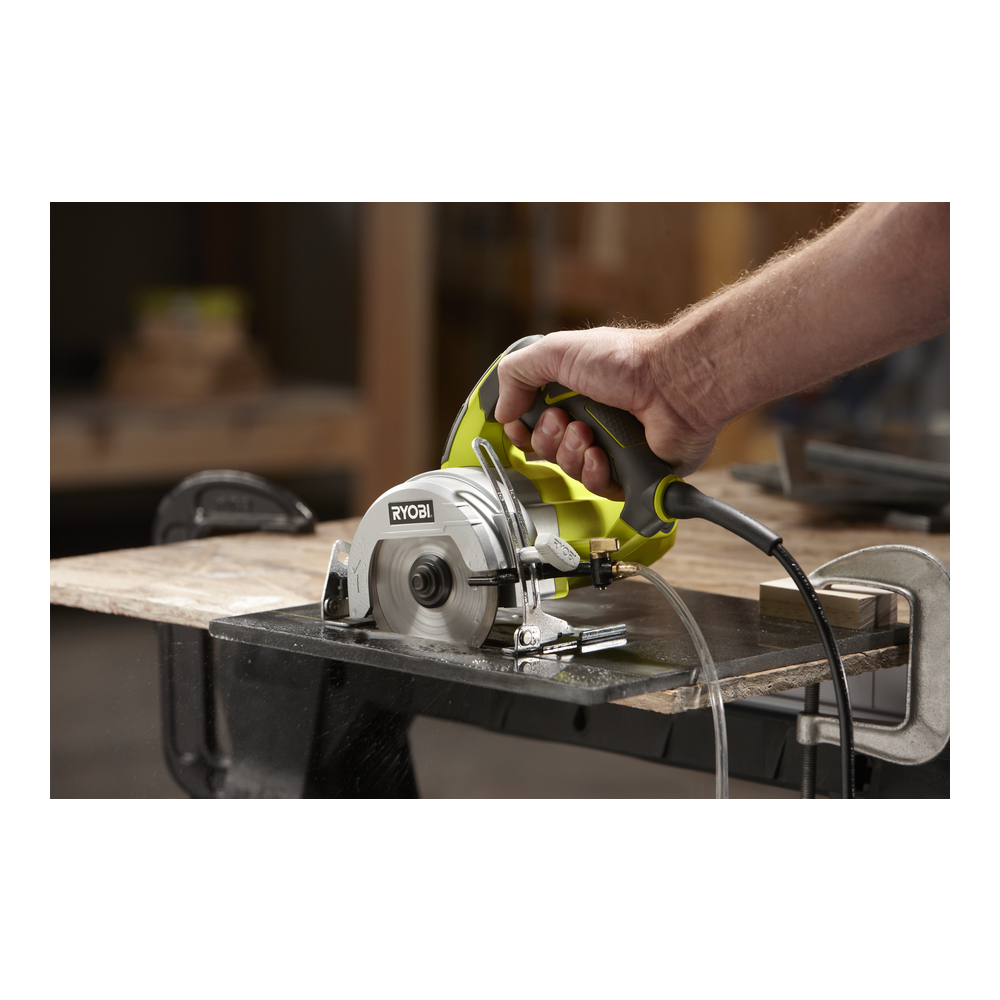 Specifications:
Blade Thickness: The thin 0.047-inch blade minimizes material wastage and delivers precise cuts.
Blade Size: The 4-inch blade strikes the perfect balance between versatility and cutting depth.
Diameter: The saw's compact dimensions (7.17 inches) make it highly maneuverable, even in tight spaces.
Cord Length: With a 6-foot cord, you have ample reach without needing extension cords.
Maximum Speed: The impressive 13,700 rpm speed ensures swift and efficient cutting.
Maximum Tile Cut Size (Diagonal/Rip): With a maximum tile cut size of 72 inches, this tool handles large projects with ease.
Horsepower: The 2 hp motor provides ample power for demanding tasks.
Construction Material: Crafted from durable Acrylonitrile Butadiene Styrene (ABS) for long-lasting performance.
Deck Material: The aluminum deck is both lightweight and sturdy, ensuring stability during use.
Dust Collection Method: While it doesn't feature a built-in dust collection system, the wet cutting method keeps dust and debris to a minimum.
Applications and Benefits: The RYOBI 4 in. Wet Tile Saw finds its place in a wide array of applications. Whether you're a professional contractor or a DIY enthusiast, this tool offers several advantages:
Professional-Quality Results: Achieve clean, precise cuts that rival those of professionals, elevating the overall quality of your projects.

Time Efficiency: The high-speed motor and ease of use enable you to complete tasks faster, saving you valuable time on your projects.

Versatility: From bathroom renovations to kitchen installations, and from small repairs to large-scale tiling projects, this saw adapts to your needs.

Durability: Crafted from high-quality materials, the RYOBI Wet Tile Saw is built to withstand rigorous use, ensuring it remains a dependable tool in your arsenal.

Ease of Maintenance: User-friendly features like externally accessible brushes make maintenance simple, reducing downtime.
The RYOBI 4 in. Wet Tile Saw with Diamond Blade is your key to achieving precise, professional results in your tiling projects. Its power, control, and user-friendly design make it a must-have for both DIY enthusiasts and professionals. Don't miss out on this opportunity to elevate your tiling game.
Ready to take your tiling projects to the next level? Act now and experience the RYOBI advantage!
Whether you're enhancing your home's aesthetics or completing a large-scale commercial project, the RYOBI Wet Tile Saw will prove to be an invaluable companion, delivering top-notch results with ease. Make every cut count with RYOBI, your trusted partner in precision and power.