Revolutionize Your Cleaning Routine with This Cordless Wonder!
Are you tired of dealing with messy dry debris on various surfaces? Say hello to the RYOBI 18V ONE+ Cordless Hand Vacuum, the latest addition to RYOBI's cleaning category. This powerful handheld vacuum is designed to make your cleaning tasks a breeze, offering exceptional suction to tackle a wide range of dry debris, whether it's crumbs, dust, or pet hair. Here's everything you need to know about this handy cleaning tool.
Exceptional Suction Power: The RYOBI 18V ONE+ Cordless Hand Vacuum features a robust motor that delivers outstanding suction power. No more struggling to pick up debris from your floors, furniture, or car seats. This vacuum is up to the task, making quick work of your cleaning chores.
Cordless Freedom: Tired of being tethered to an outlet while cleaning? With this cordless hand vacuum, you'll enjoy the freedom to clean anywhere without the hassle of cords. Whether you're vacuuming your living room, car interior, or workshop, you can move around effortlessly.
Easy Maintenance: Cleaning your vacuum should be hassle-free, and RYOBI understands that. The 18V ONE+ Cordless Hand Vacuum is equipped with an easy-to-empty dust cup, allowing you to dispose of debris quickly and conveniently. Plus, it features a dual filter system that makes maintenance a breeze, ensuring your vacuum operates at its best.
Versatile Accessories: This vacuum is compatible with a range of 1-1/4 inch accessories, including a dust brush, crevice tool, utility nozzle, and a 2-foot hose (accessory kit sold separately). These accessories make it even more versatile, allowing you to clean various surfaces and hard-to-reach areas with ease.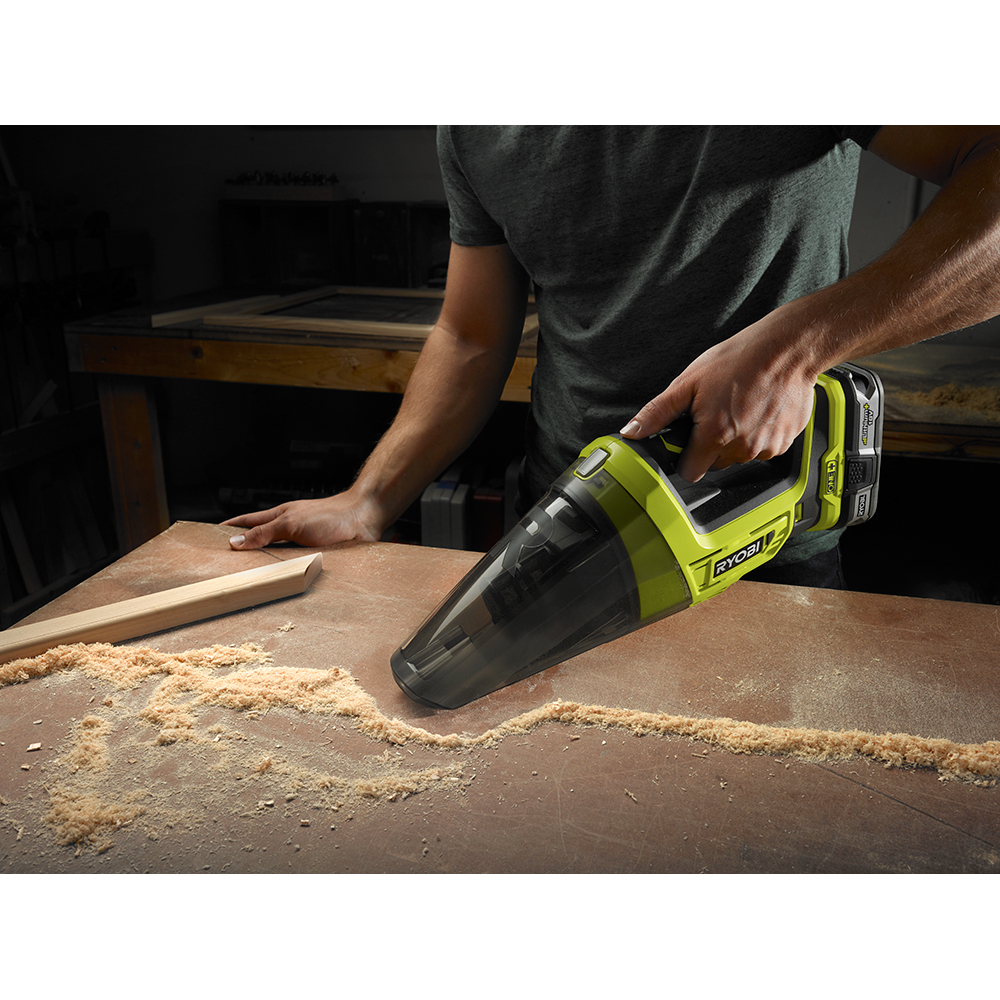 Part of the RYOBI ONE+ System: If you're already a part of the RYOBI ONE+ family, you'll be pleased to know that this cordless hand vacuum is part of the RYOBI ONE+ System. With over 260 cordless tools that all work on the same battery platform, you can power your vacuum with your existing RYOBI 18V batteries, making it a convenient addition to your tool collection.
What's in the Box: When you purchase the RYOBI 18V ONE+ Cordless Hand Vacuum, you'll receive the vacuum itself, a replaceable filter, and the operator's manual. Please note that the battery and charger are sold separately.
Cleaning has never been this easy and convenient. Say goodbye to the hassle of cords and heavy vacuum cleaners. With the RYOBI 18V ONE+ Cordless Hand Vacuum, you can achieve a cleaner, tidier space effortlessly. Whether you're a DIY enthusiast or just need a reliable cleaning companion, this vacuum is a valuable addition to your toolkit.
So, why wait? Make cleaning a breeze with the RYOBI 18V ONE+ Cordless Hand Vacuum. Order yours today and experience the power of cordless cleaning convenience.