Supercharge Your Sanding Projects with the RYOBI 2 Amp 1/4 Sheet Sander – Limited Time Offer!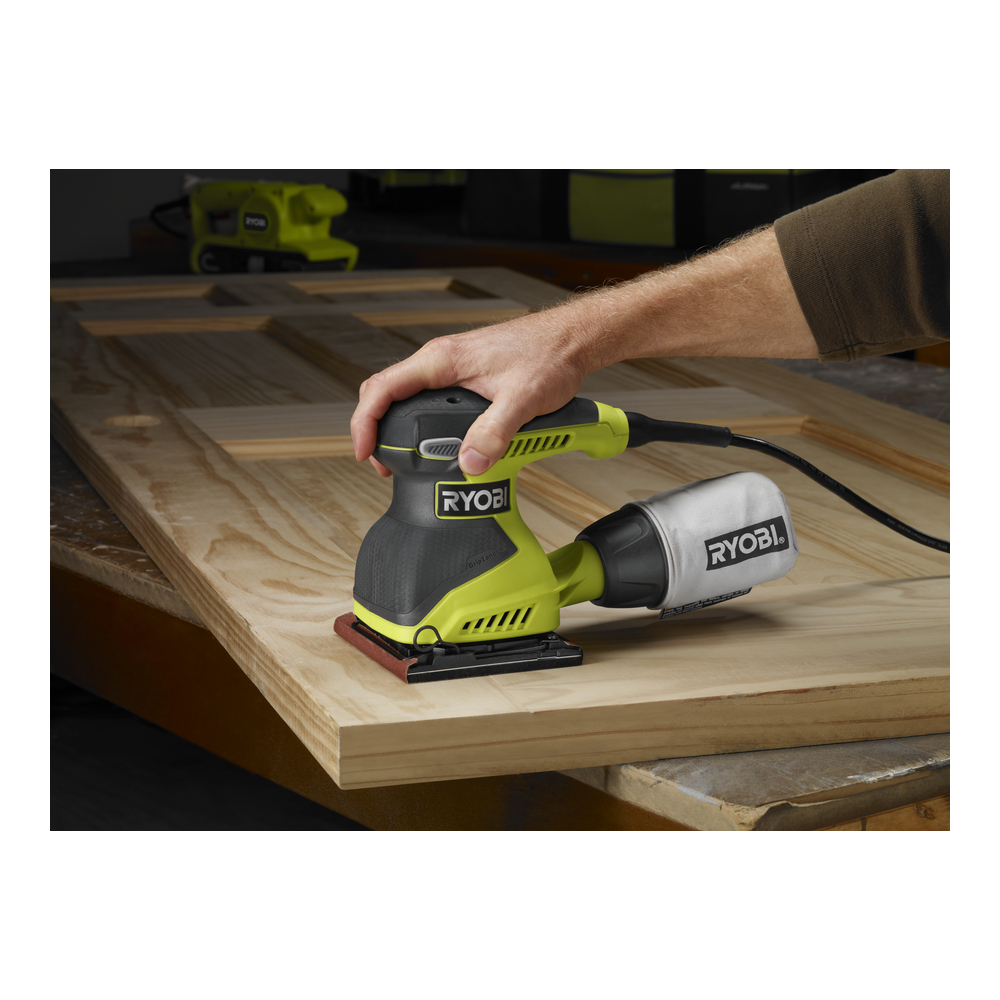 Are you tired of spending hours on sanding projects, only to achieve mediocre results? Say goodbye to manual, time-consuming sanding and hello to the RYOBI 2 Amp 1/4 Sheet Sander – your key to fast, powerful, and precise sanding.
Key Features:
2 Amp Ball-Bearing Motor: This sheet sander boasts a 2 Amp ball-bearing motor that delivers powerful performance. With 14,000 OPM (orbits per minute), it can tackle a wide variety of sanding applications effortlessly.

Lock-On Switch: Say goodbye to constantly holding down the switch. The lock-on switch simplifies operation, allowing you to focus on getting your sanding just right.

Sealed Slide Switch: Adjusting your sander is a breeze with the sealed slide switch. It's user-friendly and built to last.

1/16-inch Orbit: The 1/16-inch orbit is perfect for a variety of applications, ensuring you get the precise finish you desire.

Dust Collection Bag: Keep your work area clean and dust-free with the included dust collection bag. No more messy clean-ups after your projects.

GRIPZONE Overmold: Sand in comfort with the GRIPZONE overmold, providing a comfortable grasp and reducing fatigue during extended use.
What's Included:
RYOBI 2 Amp 1/4 Sheet Sander (Model: S652DGK)
Factory New in Box: This product is brand new in the box, ensuring you get the latest in sanding technology.
Limited Time Offer:
For a limited time, you can supercharge your sanding projects with the RYOBI 2 Amp 1/4 Sheet Sander for only $39.99 (regularly $44.97). Don't miss out on this opportunity to achieve professional-quality results in less time. Order yours today and experience the difference for yourself.
Upgrade Your Sanding Game:
Whether you're a woodworking enthusiast or a DIYer tackling home improvement projects, the RYOBI 2 Amp 1/4 Sheet Sander is your ticket to faster, more precise, and efficient sanding. Upgrade your sanding game today and take your projects to the next level.