This Crazy Portable Power Station Will Charge Any Device Anywhere - And It Runs Off Tool Batteries!
As a busy DIYer and gadget junkie, I'm constantly battling dead phone batteries, laptops running on empty, and devices dying at the worst times. But keeping everything powered up is a total game-changer. When I discovered this wild portable power station that turns your tool batteries into an unlimited power source, it absolutely blew my mind! Read on to find out how this crazy contraption will charge any device anytime, anywhere.
Tap Into Endless Power From Your Tool Batteries
Here's the brilliant part - this thing connects right to your 40V lithium-ion power tool batteries, letting you harness that juice to charge phones, laptops, tablets, and anything else you can plug in. Just snap on a compatible 40V battery and it transforms into a 300W personal power station!
With this kind of output, you can charge multiple devices at once. I've powered my laptop, drone, camera, and phone simultaneously without breaking a sweat. It sips power smoothly from the battery so everything gets nice, fast charges. The ability to tap into my existing batteries for unlimited power anywhere is an absolute game-changer!
The Perfect Portable Size for On-The-Go Charging
Don't let the power output fool you - this thing is surprisingly compact and lightweight. It's about the size of a small lunchbox and easily fits in a backpack or tool bag. The all-in-one outlet panel provides USB-A, USB-C, and a standard AC port so it can handle any device.
Whether I'm out on the trails, road-tripping, camping, or just working around the house, this portable station comes everywhere with me. The ability to charge on the go is priceless!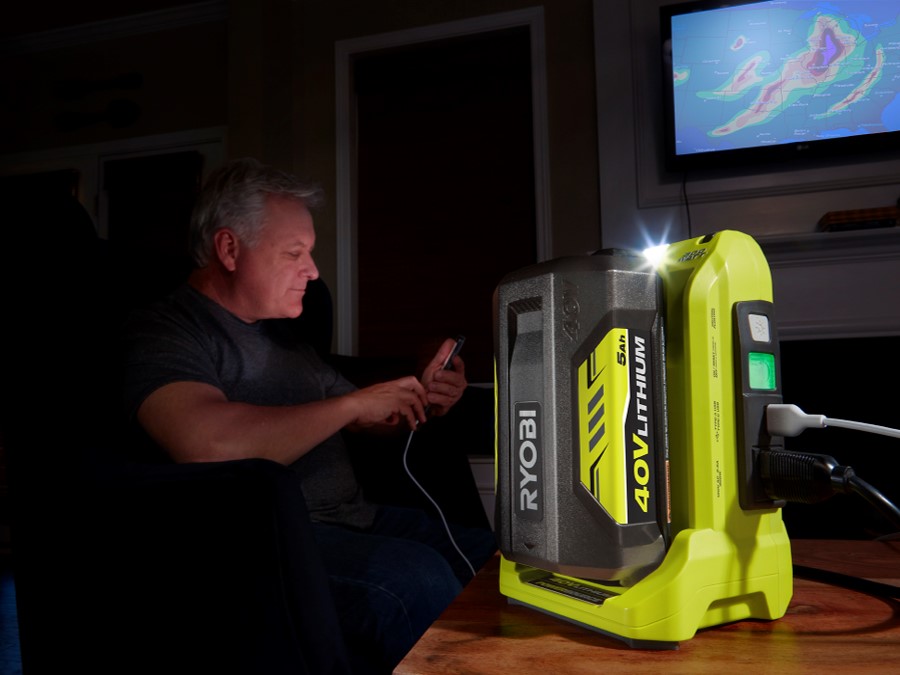 Designed For Versatility and Convenience
Several smart design choices make this charger incredibly versatile and convenient. The built-in LED light is perfect for illuminating workspaces when an outlet isn't handy. The pure sine wave power output delivers clean electricity that can safely charge any sensitive device without damage or risk.
And since it's compatible with any 40V lithium-ion battery, you probably already have several power sources for it around the house. I like to keep a few smaller 1.5Ah batteries just for the inverter - they still give hours of charging time!
Reliable Enough For Critical Devices and Work
With the pristine power output, I have no worries about charging my expensive laptops, cameras, or work devices using this station. The pure sine wave output ensures steady, clean electricity that won't fry sensitive electronics like cheaper models could.
Knowing this thing won't potentially damage my expensive gear gives me real peace of mind. When I need to power equipment for remote work/play, this little station has me covered!
It's My Portable Power Lifesaver!
Having this brilliant portable power station has honestly been a lifesaver for me. The ability to tap into my tool batteries for unlimited charging power anywhere is something I never realized I needed. But now that I have it, I can't imagine life without this magic little box!
It's amazing being able to backpack deep into the wilderness for days but still have a way to charge essential gear when I want. And I'll never be scrambling for an outlet or a charge when traveling again. For any gadget lover looking to supercharge their charging capability, this station is an absolute must-have!
Let me know if you have any other questions about how this ingenious little contraption could change your power charging game! I'm happy to chat more about why it's become my new secret weapon. The potential uses are endless.