Unleash the Shine: RYOBI 18-Volt ONE+ Cordless 6 in. Buffer
Achieving a gleaming, polished finish on your car, boat, or other prized possessions has never been easier, thanks to the RYOBI 18-Volt ONE+ Cordless 6 in. Buffer. This powerful tool, designed for automotive enthusiasts and DIYers alike, brings professional-grade polishing and buffing right to your fingertips. With its impressive features and cordless convenience, the RYOBI 6 in. Buffer is the key to unlocking the shine you've always dreamed of.
Power Meets Precision
At the heart of the RYOBI 6 in. Buffer is its ability to deliver a robust 4000 RPM (Revolutions Per Minute) performance. This high-speed capability ensures that you can tackle a variety of applications, from removing swirl marks and minor scratches to achieving a mirror-like finish. With this buffer, your vehicles and prized possessions will shine like never before.
Designed for Comfort and Control
The RYOBI 6 in. Buffer has been meticulously engineered with user comfort in mind. Its barrel grip design, coupled with the contoured GRIPZONE overmold, ensures a comfortable and secure grip during operation. Weighing just over 4 lbs., this buffer is lightweight and easy to maneuver, reducing user fatigue during extended polishing sessions.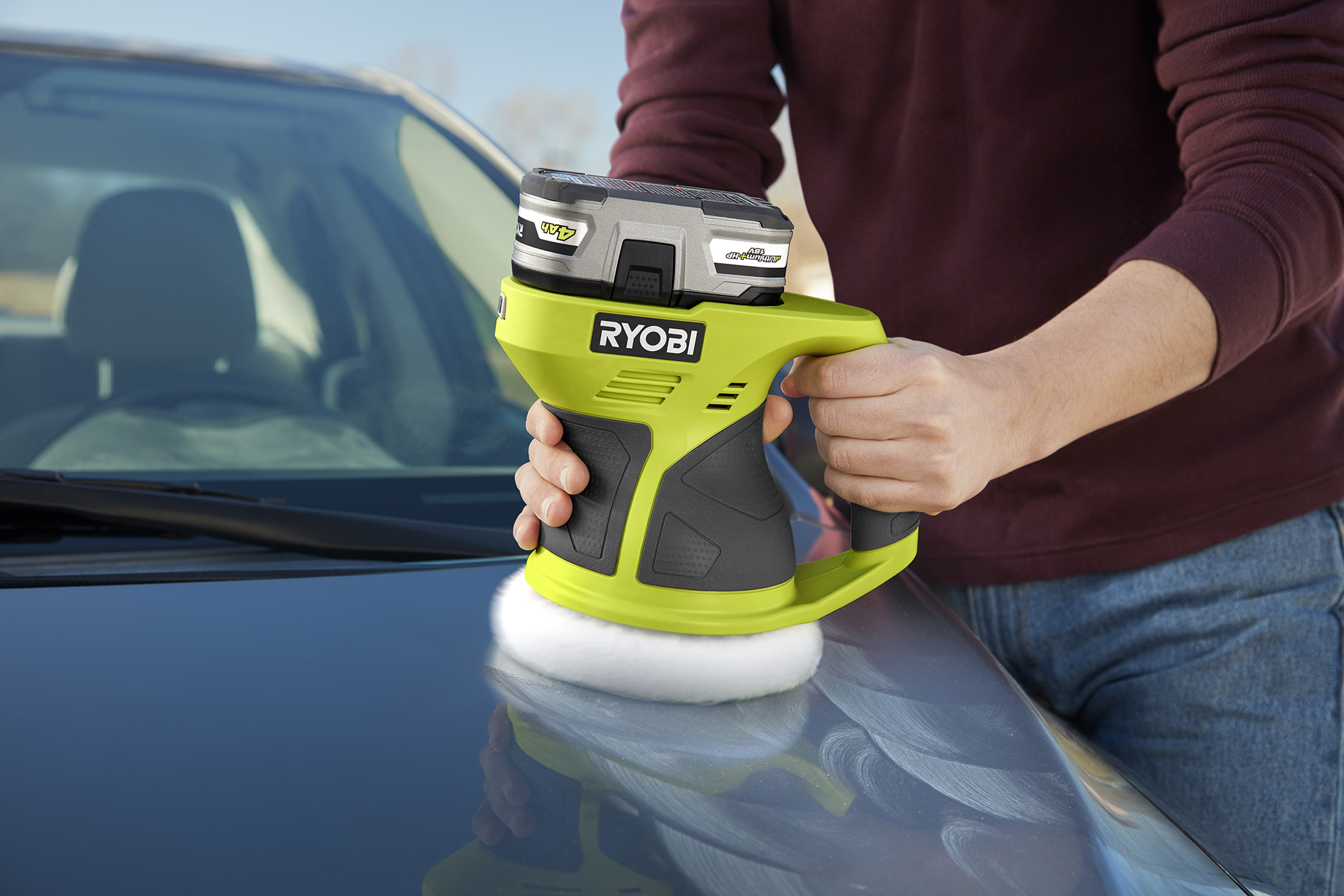 Versatility Meets Convenience
Whether you're a seasoned automotive detailer or a DIYer looking to enhance the appearance of your vehicle, the RYOBI 6 in. Buffer offers a one-speed design with a side handle for extended reach. This means you can tackle intricate detail work with ease, achieving professional-level results on every inch of your vehicle's surface.
Cordless Freedom
One of the standout features of the RYOBI 6 in. Buffer is its cordless design. Powered by RYOBI's 18-Volt ONE+ battery system, this buffer provides the freedom to work in remote locations without the hassle of cords or power outlets. You can achieve that showroom-quality finish wherever your passion for polishing takes you.
Part of a Comprehensive System
The RYOBI 18-Volt ONE+ Cordless 6 in. Buffer is part of the RYOBI ONE+ World's Largest 18-Volt Tool System*. This means you can use the same batteries across a vast array of RYOBI tools, making it a cost-effective and efficient choice for DIYers and professionals alike.
Everything You Need
When you choose the RYOBI 6 in. Buffer, you're getting more than just a tool. The package includes a buffing/polishing bonnet and an application bonnet, ensuring you have the right accessories to get started right away. There's no need for additional purchases; you have everything required to achieve that perfect shine.
In conclusion, the RYOBI 18-Volt ONE+ Cordless 6 in. Buffer is a game-changer in the world of automotive detailing and polishing. Its combination of power, precision, and cordless convenience makes it an invaluable tool for anyone looking to elevate their polishing game. Whether you're working on a classic car restoration or simply want to maintain your vehicle's appearance, the RYOBI 6 in. Buffer will help you achieve stunning results. Don't miss out on the opportunity to bring out the shine in your beloved vehicles—get the RYOBI 6 in. Buffer today and experience the difference for yourself.