Unlock Precision Cutting with the RYOBI 7 in. Tabletop Tile Saw – Limited Time Offer!
Are you tired of struggling with manual tile cutters that leave you with uneven, jagged edges? Say hello to the RYOBI 4.8 Amp Corded 7 in. Tabletop Tile Saw – your key to achieving flawless, professional-quality tile cuts with ease.
Key Features:
Miter Guide: This tabletop tile saw comes equipped with a miter guide that allows for easy miter cuts from 0 to 45 degrees. Say goodbye to complicated, manual angle adjustments.

Locking Rip Guide: Achieve precision like never before with the locking rip guide that sets up along the front and rear scales. Your cuts will be straight and accurate every time.

Powerful Induction Motor: The RYOBI Tabletop Tile Saw is powered by a robust induction motor that effortlessly cuts through ceramic, porcelain, and stone tiles up to 1-1/4 inches thick. No more struggling with thick tiles.

7 in. Diamond Cutting Wheel: The continuous-rim diamond cutting wheel ensures precision cutting and prevents chipping, leaving you with smooth, polished edges.

Tilting Cutting Table: Need bevel cuts? No problem. The cutting table tilts for precise 22.5 and 45-degree bevel cuts, giving your projects that professional touch.

Water Reservoir System: Keep your workspace clean and your cuts smooth with the built-in water reservoir system that captures run-off and provides continuous water to the cutting wheel.

Stainless-Steel Table: Designed for durability, the corrosion-resistant stainless-steel table ensures your saw stands the test of time.

Cutting Depth: With a cutting depth capacity of 1-1/4 inches, you can tackle thick tiles and stepping stones with ease.

Anti-Slip Rubber Feet: Stability matters. The anti-slip rubber feet keep your saw firmly in place during operation.

Clear Splash Hood: Enjoy increased visibility with the clear splash hood, so you can see your cuts clearly and make adjustments as needed.
What's Included:
7 in. diamond cutting wheel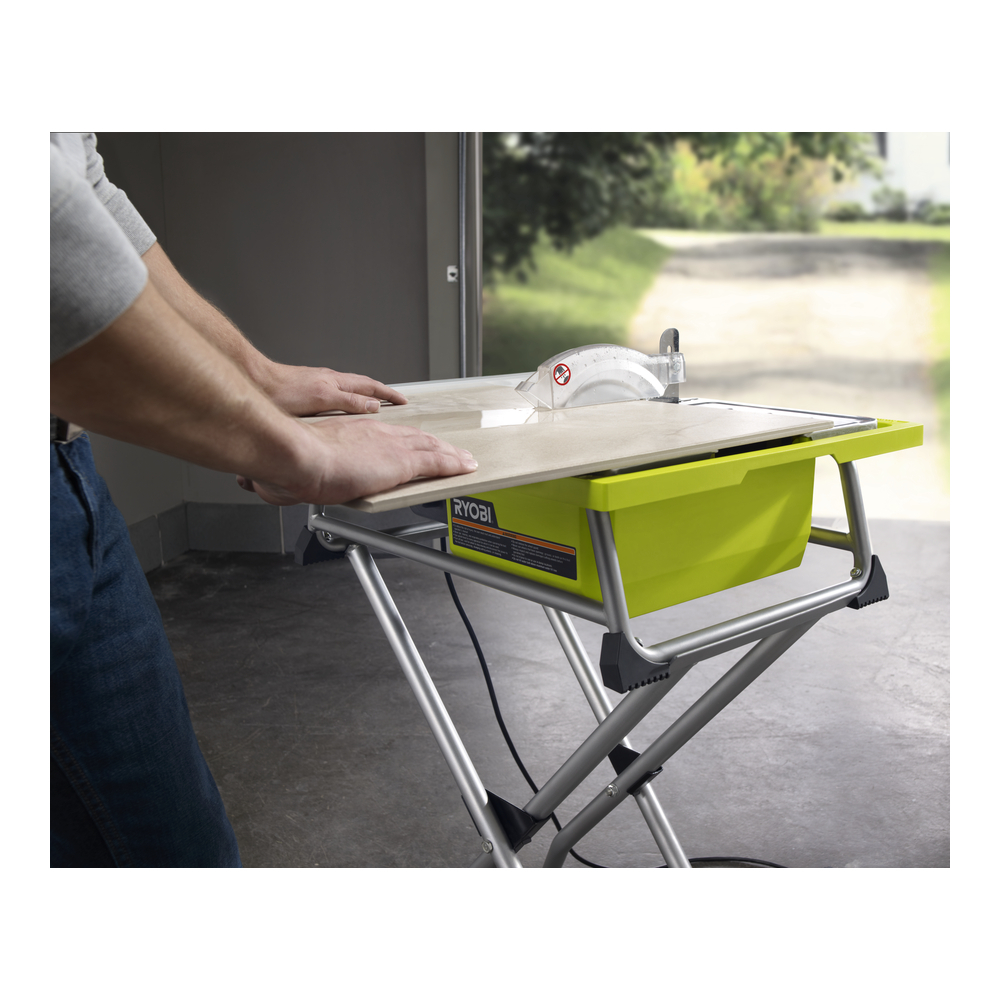 Factory Reconditioned: This product is factory reconditioned, meaning it has undergone rigorous testing and refurbishment to ensure it meets the highest standards of quality and performance.
Limited Time Offer:
For a limited time, you can elevate your tile-cutting game with the RYOBI Tabletop Tile Saw for only $119.99 (regularly $149.00). Don't miss out on this opportunity to achieve precision cuts effortlessly. Order yours today and experience the difference for yourself.
Upgrade Your Tile-Cutting Experience:
Say goodbye to uneven, jagged edges and hello to flawless, professional-quality tile cuts. Upgrade your tile-cutting experience with the RYOBI Tabletop Tile Saw and take your projects to the next level.