Upgrade Your Jig Saw with the New ONE+ HP 18V Brushless Cordless Model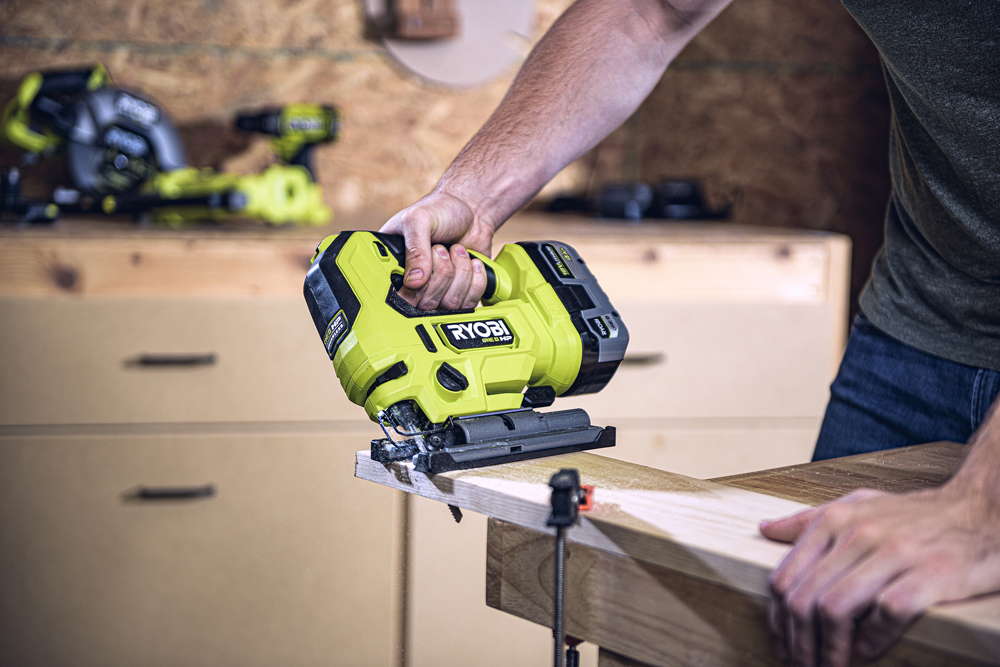 Are you still struggling with a corded jig saw that lags and binds when cutting curves? Do you spend more time wrangling the cord than actually making precision cuts? It may be time to upgrade to a powerful cordless model for maximum freedom and performance. Ryobi has answered the call with their new ONE+ HP 18V Brushless Jig Saw. This impressive saw is engineered to boost cutting speeds while retaining battery charge longer.
In this post, we'll highlight the key benefits of the Ryobi brushless jig saw and why it's a game changer for pros and hobbyists alike.
Faster, Smoother Cutting with the Brushless Motor
The star of the show is the high-performance brushless motor. It delivers a whopping 36% faster cutting compared to brushed motors. The increased torque and efficiency lets you rip through wood, metal, plastic and other materials with greater speed.
Brushless motors also operate cooler and with less friction. This translates to smoother, less vibrating cuts without lagging. You'll enjoy more control and cleaner cut lines, especially when tackling detailed scrollwork or curved shapes.
Up to 78% Longer Runtime Per Charge
In addition to faster cutting, the Ryobi brushless jig saw motor achieves up to 78% longer runtime per charge. This drastic improvement is possible because brushless motors are more energy efficient. Less energy gets lost through friction and heat.
Extended runtime keeps you working longer between battery swaps or recharges. Being able to complete more cuts per charge makes this saw ideal for prolonged use on large projects.
Variable Speed and Orbital Settings
Beyond its powerful motor, the Ryobi ONE+ HP jig saw provides adjustable features to custom tailor cuts.
The variable speed dial ranges from 800 to 3,400 strokes per minute. Slower speeds give you greater control for detailed work like interior cuts and nice edges. Higher speeds efficiently power through thicker dense material.
This saw also offers 4 orbital settings to optimize cutting action based on the material and application. Lower orbitals work well for fast solid cuts in wood and plastic. Higher orbitals utilize the back and forth blade motion for aggressive cutting in metal or on corners.
Additional Handy Features
Tool-free bevel adjustment

 

(up to 45° left/right) for quick angled cuts
LED worklight

 

to brightly illuminate cut lines
Lock-on trigger switch

 

for steady long cuts
Die-cast metal base

 

for durability
Non-marring oversized shoe

 

to protect work surfaces
Quick release lever

 

for fast blade changes
Compatible with All ONE+ Batteries and Tools
The Ryobi HP Brushless Jig Saw is part of the ONE+ battery system featuring over 225 compatible tools. This gives you the flexibility to use any ONE+ battery to power the saw.
You can share batteries between all your ONE+ tools without having to buy dedicated proprietary packs for each one. Ryobi's lithium-ion batteries range from compact 1.5 Ah units for light jobs up to high capacity 6.0 Ah packs for marathon cutting sessions.
Ideal for Contractors and DIYers Alike
Thanks to its performance features and cordless freedom, this jig saw adapts to a wide range of applications. Contractors will appreciate the ability to quickly make cuts and modifications onsite without dragging cords around. DIYers will love the precision and control for home improvement and hobby projects.
If you're still using an old fashioned corded jig saw, it's probably time you checked out Ryobi's ONE+ HP Brushless upgrade. The boost in cutting speed, runtime, and versatility takes jig saw functionality to the next level. See for yourself why this is one of the most advanced and powerful cordless jig saws on the market!