Your Comprehensive Guide to RYOBI's 40-Volt Collection
RYOBI's 40-volt cordless system delivers next-level power for homeowners tackling demanding outdoor projects. With advanced lithium-ion batteries supplying up to 50% more voltage than 18-volt tools, the 40V lineup provides extended runtimes to handle rigorous yardwork. This comprehensive guide explores the capabilities and benefits of RYOBI's robust 40-volt collection.
Overview of 40V Tools
The 40-volt platform currently includes:
Lawn Mowers
Snow Blowers
String Trimmers
Leaf Blowers
Chainsaws
Power Washers
Tillers
Pole Saws
This range of tools covers every homeowner's outdoor power needs year-round, from mowing and landscaping to winter snow removal. Continue reading for details on notable 40V machines.
RYOBI 40V Self-Propelled Lawn Mower
RYOBI's 40V self-propelled mower allows homeowners to ditch gas for cordless cutting convenience. The 40V 20 in. Brushless Self-Propelled Mower delivers powerful performance thanks to high-efficiency brushless motors spinning the blades up to 3,600 RPM.
The dual blade deck provides a 20-inch cut width to mow up to a half acre on a single charge. Convenient features include push button start, 9 position height adjustment from 1.5 to 4 inches, and integrated headlights. Weighing just 88 lbs, the mower is easy to maneuver and store.
RYOBI's 40V mower matches gas models for power while eliminating emissions and noise. Cordless convenience makes mowing enjoyable.
RYOBI 40V Snow Blower
RYOBI's 40-volt snow blower lineup tames winter weather with gas-free power. The 40V 24 in. Brushless Snow Blower is a heavy duty two-stage machine equipped with a 500 CFM brushless motor to blast snow up to 30 feet at 175 MPH.
It packs a 24-inch intake width and 16-inch clearing depth to devour drifts and plow piles. Dual LED headlights illuminate your path, while the remote chute rotator aims snow exactly where you want. Weighted tires provide enhanced traction in slippery conditions. This musclebound snowblower makes quick work of heavy snowfall.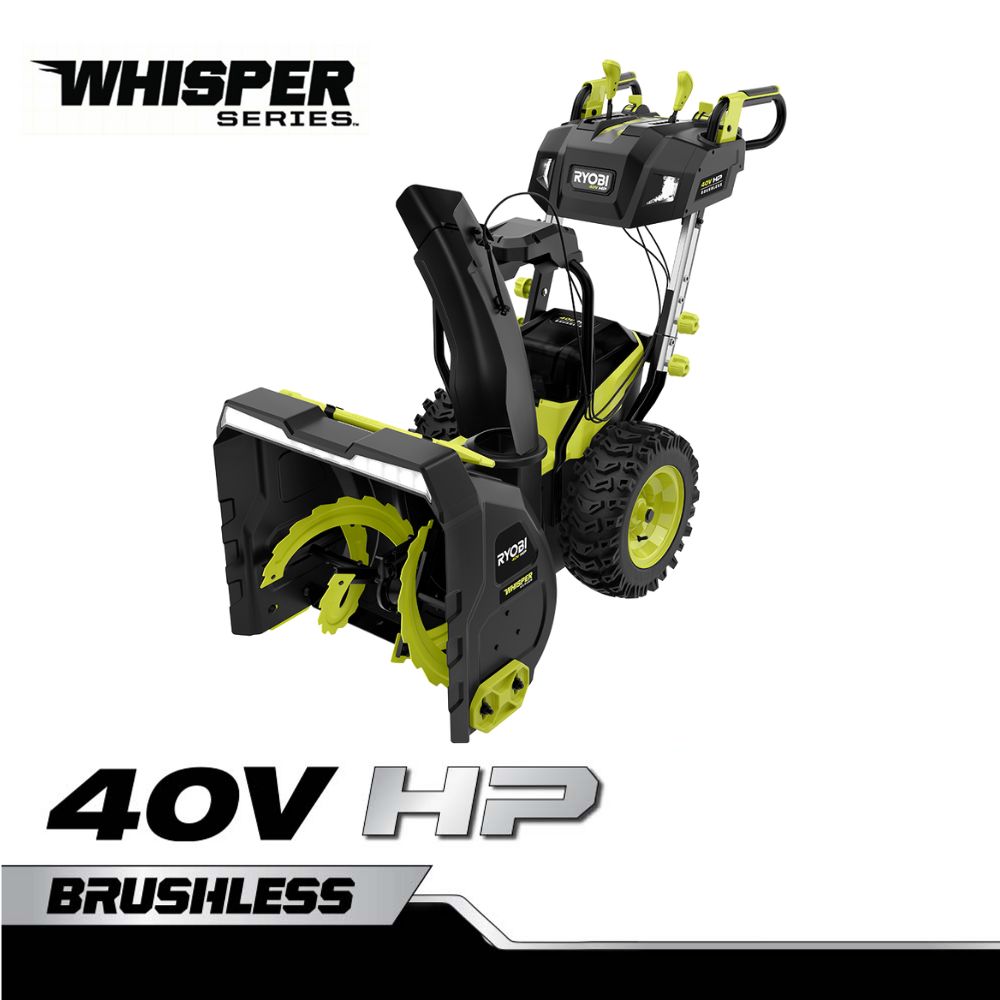 RYOBI 40V String Trimmer
RYOBI's 40V string trimmer delivers high-powered cutting and edging to whip yards into shape. The 40V Cordless String Trimmer utilizes a dual 0.080-inch line bump head to slice through thick grass and weeds easily.
Its 6-position adjustable shaft and rotating head provide an ergonomic range of motion to prevent fatigue. Turbo and cruise control modes give you variable power, while the free Spool EZE line release makes replenishing trimmer line quick and easy. With up to 60 minutes of runtime, the 40V string trimmer conquers overgrowth with ease.
RYOBI 40V Chainsaw
Serious cutting calls for the rugged power of RYOBI's 40V cordless chainsaw lineup. Available in multiple bar lengths up to 18 inches, the 40V chainsaws make short work of tree limbs, firewood, and storm debris.
The 40V 16 in. Cordless Chainsaw provides instant startup and quiet operation thanks to its brushless motor. The tool-free chain tensioning system keeps the Oregon bar and chain dialed in for smooth sawing. Automatic oiling keeps the chain lubricated for the life of the charge.
With no pull-cords or carburetors, RYOBI's 40V chainsaw is perfect for suburban yards needing real gas-matching cut strength.
40V Batteries + Chargers
The key to the 40V platform is the interchangeable lithium-ion battery packs. 40V batteries use premium Samsung cells and are available in capacities from 1.5 Ah up to a monster 9.0 Ah for prolonged power.
RYOBI's 40V dual chemistry charger can juice up both 40V and 18V ONE+ batteries for outstanding flexibility. The 40V fast charger replenishes a 4.0 Ah battery in around 60 minutes so your tools stay ready for action.
40V + ONE+ Cross-Compatibility
A major advantage of RYOBI's 40V system is cross-compatibility with their 18V ONE+ tools. Using an adapter, 40V batteries can drive over 175 ONE+ tools for expanded utility.
That means you can share robust 40V batteries between high-draw outdoor tools and lower-voltage drills, saws, lights and more. This hybrid compatibility enhances value and convenience.
In summary, RYOBI's 40-volt platform offers home-grade power minus the headaches of gas. 40V tools are engineered to deliver uncompromising capability and runtimes for tackling the toughest yardwork. If you demand flawless results from your outdoor power equipment, RYOBI's premium 40-volt lineup is sure to satisfy.